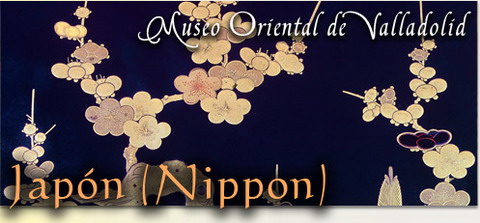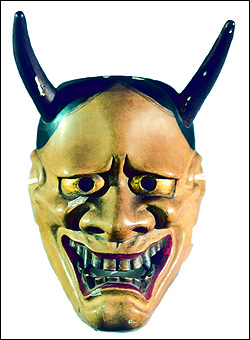 "Hannya" noh's mask.
Painted wood.
Edo period, XVIII century.
The Japanese art – which has one of its main sources in China – adapted and perfected the Chinese models, introducing original innovations. In many cases Japanese artists arrived at a high degree of refinement, even surpassing their masters.
Japanese art at the Oriental Museum exhibit works belonging to the periods of Edo (1603-1868) and Meiji (1868- 1912): precious Buddhist and Shinto sculptures in lacquered and gold-enameled wood, and some pieces of Christian origin; bright shellacs referring to the different domains of daily life (food, tea ceremony, tobacco, sanitation, writing...); precious "cloisonné" and "musen" enamels; colored kimonos; attractive masks of the "noh" theatre; impressive armatures, spears, "katanas" and other works used by the ancient samurais; luxurious Imari and Satsuma porcelains; ancient paintings, calligraphies of the 17th century and engravings ("ukiyo-e") that show the life of the "floating world" of Japan, as well as photographs and paintings of the 19th century showing the landscape, daily life and customs of this country.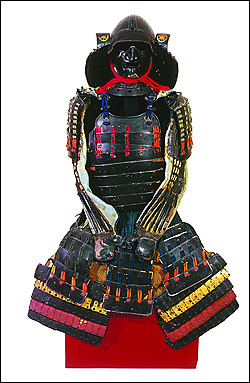 Samurai's armour.
Iron, lacquer, silk.
Edo period, XVIII century.
For the antiquity of its pieces, the variety of its collections and the beauty of the art-works exhibited, a visit to the Oriental Museum would certainly constitute an unforgettable experience.